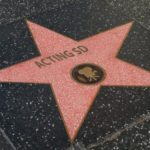 Los Angeles Acting Studio SD is San Diego's premier acting school for film, television and stage. Offering real world acting classes, and private coaching to actors of all levels. The studio specializes in developing each actors "Unique Self"- transforming talent into confident working actors. We are a thriving community of supportive artists. We are actors, filmmakers, directors, writers and comedians.
Veteran acting coach Andrew Benne moved his L.A. studio to San Diego in April of 2016. His San Diego classes are conducted at the same level of high standards taught to hundreds of celebrities and working actors since 1989. Mr. Benne believes the entertainment industry has changed and actors don't necessarily have to live in New York or Los Angeles anymore, but deserve to be trained with all the same advantages.
We are a Hybrid Meisner studio. Primarily rooted in the Meisner technique yet strongly influenced by the disciplines of Stella Adler, Uta Hagen, Eric Morris and legendary filmmaker John Cassavetes. The studio provides a safe, yet risk taking environment for actors to become truthfully, imaginary and emotionally free in their work. Classes are small and very individualized all assignments are custom made for each actor.